Posts Tagged 'Mitt Romney'
Paul Ryan should be Mitt Romney's choice for Vice President.  He is smart, energetic, attractive, clean background, and knows how to campaign to swing voters.  His current Congressional district is largely blue collar union members in Wisconsin.
Ryan would immediately inject some enthusiasm among the base of the party since he is a solid conservative.  It will also inject some message discipline because Ryan is one of the best communicators in the GOP.
The most important reason to pick Ryan is that if the Democrats are going to attack Romney for the "Ryan budget," who better to argue that issue than the author himself?  Make no mistake, the Democrats are going to tie Romney to Ryan's budget regardless of whether he's on the ticket.
Another asset Ryan brings to the ticket is the "real person" element.  He is a very personable and engaging guy who can talk to real people about anything.  He does regular town halls, dealing with real people day in and day out.
Oh, and Ryan on the ticket would probably deliver Wisconsin to the Republican column in the Electoral College – something that hasn't happened since Reagan.
That changes the map, which would change Obama's math.
The real question is whether Romney will have the guts to go bold.
If there was any doubt that there is a war on women, Democrat advisor Hilary Rosen proved it continues to rage: liberals loathe women who stay at home to raise their children.  Just read what Rosen had to say about Mitt Romney's wife, Ann:
"Guess what, his wife has actually never worked a day in her life," said Rosen, who was being interviewed by CNN's Anderson Cooper about the "war on women."
Not only did Ann debut on twitter with a response ("I made a choice to stay home and raise five boys. Believe me, it was hard work.") but even the Obama campaign realized it needed to distance itself from this misogyny:
"I could not disagree with Hilary Rosen any more strongly. Her comments were wrong and family should be off limits. She should apologize," Obama campaign manager Jim Messina said in a tweet.

Top Obama campaign strategist David Axelrod also tweeted his disapproval: "Also Disappointed in Hilary Rosen's comments about Ann Romney. They were inappropriate and offensive."
I suspect that Messina and Axelrod only disagreed because Rosen made these comments in public.
[This post will be updated as the night goes on]
This is going to be a big day for Mitt Romney.  He will win Ohio, Virginia, Idaho, Massachusetts and Vermont.  He will come in second in Georgia, and thus will take a decent number of delegates out of that state.
At the end of the night, it will be clear that Romney is in the driver's seat and the nomination is essentially his.  Newt Gingrich should do the honorable thing and drop out – having only one win tonight – and Rick Santorum should also drop out, recognizing that he has no chance of beating Obama.
[UPDATE 6:00 p.m.EST]
Exit polls show that Romney will win OH, VA, VT and MA.  Santorum will win TN and OK.  Gingrich will win GA, but be held below 50%, allowing Romney to get a decent chunk of delegates as the second place winner.
[UPDATE 8:30 p.m. EST]
Romney has been declared the winner in VA, VT and MA.  Gingrich has won GA, where Romney and Santorum are within a couple hundred votes vying for second place. Santorum has won Oklahoma.
Ohio polls are closed and with a mere 1% reporting, Romney leads Santorum by 3% – way too early to call.
[UPDATED 9:30 p.m. EST]
Santorum holds a nearly 4% lead over Romney in Ohio with 29% of precincts reporting.  This could get interesting.
Santorum has also won TN and it looks like he may win ND.
This night is far from over.
[UPDATE 10:10 p.m. EST]
Santorum remains in the lead in Ohio by less than 2% (about 10,000 votes) with about 55% reporting.  The good news for Romney is that there a lot of ballots to count in areas where he is strong.  Even if Santorum wins the statewide vote, Romney will gain a large number of delegates, since they are distributed by Congressional district.
So we continue to wait on Ohio.
[UPDATE 11:55 p.m. EST]
Mitt Romney appears to have squeaked out a win in Ohio. He won the population centers of Cleveland, Dayton, Columbus and Cincinnati.  He has also won Idaho.  Huge night for Romney.  The nomination is effectively secured.
[UPDATE 1:00 a.m. EST]
Romney's wins in OH, VA, VT, ID and MA along with delegate gains in GA, ND, OK and TN give him a total of 386 delegates to Santorum's 156 and Gingrich's 85.  Congratulations to Romney for securing the Republican nomination.
With the nomination of Mitt Romney becoming more likely, there will be increased chatter about Mormonism, and more specifically, the "Mormon Moment."
In preparation of the forthcoming stories, I strongly recommend you read this piece by Thomas Grier, a smart third-year law student, and a great thinker.
Here's an excerpt:
The media and pundits have suggested America is in the middle of a "Mormon moment," highlighting the fact that there are two Mormon candidates for the Republican presidential nomination, a critically acclaimed Broadway musical poking fun at Mormonism and a general discussion about Mormon theology and culture. There is a projected narrative that wherever you look, whether in business, government or talk radio, you are sure to find a Mormon staring back at you.

If, as expected, Mitt Romney wins the Republican nomination expect Mormonism to be in your face until the elections and beyond.
It's well worth your time to read.
Newt Gingrich is smart, a visionary and completely unfit to be President.
While someone could write a book with all the reasons Newt shouldn't be President, this story is one simple example:
Republican presidential candidate Newt Gingrich is hitting rival Mitt Romney in a new ad, with a voice-over that says at one point, "just like John Kerry, he speaks French, too."
Are you kidding me?  That has to be the weakest, most pathetic line I have ever seen in a political ad.
Especially when you consider this:
Gingrich's 1971 dissertation – "Belgian Education Policy in the Congo 1945-1960" — contains a multitude of sources in French in his bibliography.

In total, Gingrich relied upon 143 French-language sources to write his dissertation — including 18 "public documents," 90 books, 33 published articles and 2 unpublished documents.
How do you say "go away" in French?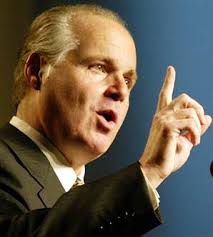 CPAC ended with a bang with a closing speech by Rush Limbaugh.  It was a tour-de-force that will go down in the annuls of CPAC speeches as one of the best ever.  He had the audience of thousands (and thousands more packed into three separate ballrooms watching on big screens) on its feet dozens of times during his speech.
After the speech I grabbed a bite to eat at Stoney's in D.C.  At a table near me, I overheard a lady sitting with three of her friends talk about how she was flipping through channels and came across Rush Limbaugh on CSPAN.  She said that she had never listened to him before and that she was surprised by "how good he was and how funny he was."  She went on to provide an explanation about how Rush explained what he meant when he said that he "hoped Obama failed."  She argued, with skeptical dinner mates, that Rush's point was that Obama's policies are very bad for the country and that his desire that Obama fail, was justifiable because he disagreed with the policies.
I was riveted by the conversation, which was difficult to hear at times (not only was it kind of loud, those who know me well, know that I am nearly completely deaf in my left ear, and they were sitting to my left).  As friends made comments, she came back with responses.
I don't know whether she convinced her friends that Rush was right, but she was clearly a newly minted ditto-head who was vigorously defending him only hours after hearing him for the first time.  Now that is the power of persuasion, especially when it is articulated in a clear, concise and humorous way. Well done Rush.
CPAC 2009 will be remembered as the beginning of the resurgence of the conservative movement.  There was a multitude of great speeches ranging from Members of Congress, Governors, activists and personalities.  Gov. Mark Sanford and former Governor Mitt Romney proved that they are viable for a presidential run in 2012.  Rush Limbaugh proved that he will continue to be the conscience of the conservative movement. Young conservatives in attendance proved that there is plenty of energy and vigor to continue the fight.  
And CPAC proved that it remains the preeminent conservative conference for the movement. Make plans now to attend CPAC 2010 from February 18-20, 2010.  You'll be glad you did.