Posts Tagged 'Mark Sanford'
Yes, former South Carolina Governor was kind of a laughing stock after it was revealed that he had disappeared to Argentina for a few days to spend time with his "soul mate."
And yes, his press conference to explain himself was one of the most painful political moments in history– actually more painful than the infamous Rep. Enid Greene Waldholtz 5-hour press conference of 1995. (Long before the days of YouTube, unfortunately, I couldn't find video of it.)
But, defying conventional wisdom and the odds, Sanford has been elected to represent the 1st district of South Carolina in a special election.
Good.
Sanford was one of the revolutionaries of 1994.  I was lucky enough to have a front row seat to the early days of the Republican Revolution and to watch the likes of John Shadegg, Sam Brownback, Steve Largent, Mark Neumann, Matt Salmon, and Mark Sanford work to implement the mandate that they felt they carried to reform Washington.
They fought Newt when he tried to compromise with Clinton.  They held the line on spending, leading to the one time in 40 years that federal spending actually went down in real dollars (although it was for only one year).  They were the true believers.
*** Sidebar ***
Sometime after Mark Sanford was elected Governor of South Carolina, he graciously accepted an invitation to speak at a conservative conference in Reno, NV.  The conference organizers were awe-struck when he insisted that he travel alone, in coach, and refused a car service.  He flew into Reno by himself (no entourage, no security detail), grabbed a cab, and checked himself into the hotel.  It was quintessentially Mark Sanford – low key, regular guy.
*** End Sidebar ***
Congress needs more Mark Sanfords.  Yes, he is flawed.  But few great leaders are not flawed in some way.  They are human.
What I know is that the country will be better off with Mark Sanford back in Congress.
Between my daughter having spinal surgery for kyphosis, an out-of-town obligation and just a really busy schedule, I haven't been able to blog for a few days.
But I've been thinking.
It's always an interesting phenomenon when a big-name celebrity dies.  The coverage of Michael Jackson's death has been nothing short of absolutely ridiculous.  As a friend of mine said the day after Jackson died, the person most happy about it is Mark Sanford.  Yeah, remember that whole episode?  Memories are short.
My wife has been a trooper, staying at the hospital the whole time with my daughter.  With me out of town and juggling the watching of kids, I think her patience was thinning.  I got home tonight and on my desk was a target (it was a NRA official 50-yard small bore rifle target) with every shot but one in at least the #8 ring (for those of you who don't shoot, we call this "tight grouping" and it is impressive).  It was from my wife's recent shooting excursion with my son's scout den.  She helpfully wrote a note on it that read, "This is just a warning… DON'T MAKE ME MAD! Just sayin'…"
Alrighty then…
My wife is a celiac, which means she has to have a gluten-free diet.  She related a little frustration from trying to find stuff from the hospital cafeteria that she could eat.  On multiple occasions she asked the cafeteria worker if something was gluten free.  "No, it's $2.50…"
A walker (you know, the kind old people use? Or 15 yr-olds with spine surgery…) and a 2 yr-old boy are a disaster waiting to happen.
The immediate benefit of my daughter's spinal surgery is that she is nearly three inches taller.  The downside for me is that she is sleeping in my bed, and I'm not.
Glad our playhouse got done…
Isn't timing in life just so strange sometimes?
I've been insanely busy with work projects, my daughter Kinsey had successful back surgery this morning (I'm actually sitting next to her as she sleeps right now), and all this news won't stop breaking!
SC Gov. Mark Sanford has an affair with a lady in Argentina and a really random turn of events that lead to the press conference announcing it. Farrah Fawcett dies.  Michael Jackson dies.  Congressional Democrats are pushing through the largest tax increase in the history of mankind with their Climate Change bill. Obama's health care plan is really, really expensive and it's going to be harder to pass than most people had thought.
Any one of those issues could warrant multiple blog posts.  Alas, the timing makes it tough.
I can't not at least make some comment on Sanford.  I've known Sanford since he was elected to Congress in 1994.  He was one of the true revolutionaries.  He kept his personally imposed term-limits pledge and could arguably be the best conservative Governor in the nation.  I have long pined for him to run for President.  I have been devastated since his press conference – which was like a car accident – I couldn't turn away.
I suppose no one really has control of timing – so I'm reserving the right to go back and blog about some of the topics above later.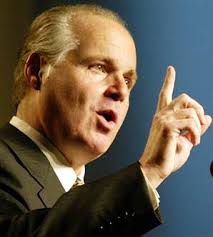 CPAC ended with a bang with a closing speech by Rush Limbaugh.  It was a tour-de-force that will go down in the annuls of CPAC speeches as one of the best ever.  He had the audience of thousands (and thousands more packed into three separate ballrooms watching on big screens) on its feet dozens of times during his speech.
After the speech I grabbed a bite to eat at Stoney's in D.C.  At a table near me, I overheard a lady sitting with three of her friends talk about how she was flipping through channels and came across Rush Limbaugh on CSPAN.  She said that she had never listened to him before and that she was surprised by "how good he was and how funny he was."  She went on to provide an explanation about how Rush explained what he meant when he said that he "hoped Obama failed."  She argued, with skeptical dinner mates, that Rush's point was that Obama's policies are very bad for the country and that his desire that Obama fail, was justifiable because he disagreed with the policies.
I was riveted by the conversation, which was difficult to hear at times (not only was it kind of loud, those who know me well, know that I am nearly completely deaf in my left ear, and they were sitting to my left).  As friends made comments, she came back with responses.
I don't know whether she convinced her friends that Rush was right, but she was clearly a newly minted ditto-head who was vigorously defending him only hours after hearing him for the first time.  Now that is the power of persuasion, especially when it is articulated in a clear, concise and humorous way. Well done Rush.
CPAC 2009 will be remembered as the beginning of the resurgence of the conservative movement.  There was a multitude of great speeches ranging from Members of Congress, Governors, activists and personalities.  Gov. Mark Sanford and former Governor Mitt Romney proved that they are viable for a presidential run in 2012.  Rush Limbaugh proved that he will continue to be the conscience of the conservative movement. Young conservatives in attendance proved that there is plenty of energy and vigor to continue the fight.  
And CPAC proved that it remains the preeminent conservative conference for the movement. Make plans now to attend CPAC 2010 from February 18-20, 2010.  You'll be glad you did.