Posts Tagged 'Diamondbacks'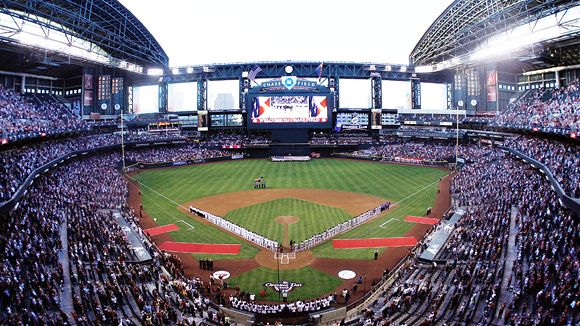 The only Diamondbacks game I got to last year was the second to the last home game, so I was determined to start the season right by taking my 11 year-old son to Arizona's home opener.
It didn't disappoint. Between a towering home run by Mark Reynolds, a two-run inside-the-park round-tripper by Stephen Drew and a masterful performance by Dan Haran on the mound, it was a great day – not to mention the fighter jet flyover to start the game.
There is nothing quite like sharing opening day with your son, particularly when he has a big smile on his ice-creamed smeared face after enjoying a Cold Stone Oreo Overload washing down a 2 lb bag of peanuts.
Yes, it's only the first game, but the D-Backs are showing some real promise this year.
Here's to getting to a few more games this year.
Major League Baseball spring training is underway and my sons little league opening day is this week.
For a baseball nut like me, it's Christmas in the spring.
The gift of the Cactus League, with the addition of the Los Angeles Dodgers last year, make spring training that much better. With the Diamondbacks moving from Tucson to the Valley soon for spring training, makes the Cactus League that must stronger.
Play ball!
I've been highly distracted the last couple days.  Just thought you should know.
So at dinner I ask my 7 yr-old daughter what she thinks it means to be tolerant.  My wife leans over and whispers something in her ear.  Daughter responds, "Taller than an ant."  Now that's funny.
I'm a Diamondbacks season ticket holder and I have yet to step foot in Chase Field this season.  There is something very wrong with this picture.  And there is a certain amount of irony to why I've been too busy and too out of town to do so.
Wal-Mart announced that it is joining with the Service Employees International Union in support of an employer mandate to provide health insurance coverage.  For one thing, doing anything with SEIU (I actually refer to it as SUIE – as in sooooweee! Like when you are calling the pigs since SEIU leadership is like a bunch of hogs at the trough of forced union dues) is a recipe for disaster.  Does Wal-Mart actually believe that SEIU won't try to unionize them in exchange for supporting bad policy on health care?  Think again.  Sam Walton is turning in his grave.  Tevi Troy has a good take on it here.
There are a lot of flowers in our house as a result of my 15 yr-old daughter's spinal surgery.  When they are a few days old, they really start to smell the opposite of what they are supposed to – but they're still pretty, so I don't want to throw them out yet.
Given the distractions, my daughter's surgery and my schedule for the last week, I have paid zero attention to the Arizona budget fight between the Legislature and the Governor, so I don't know what to think.
Bob Melvin has been fired.  A.J. Hinch will replace him. Batting coach Rick Schu was also fired.
Hinch is a young guy, just 34 years-old.  We'll see if he can motivate the young players to get their game on.  AP has good coverage posted on ESPN.com.
The Arizona Diamondbacks loss to the Padres in extra innings will likely cap manager Bob Melvin's run as skipper.  D-backs fans (and the front office) are frustrated with the slow start and today's game only exacerbates the issue.  The players have to be aware that Melvin's job is on the line, and yet they didn't rally to help him, with only five hits in 10 innings. 
Watch for an announcement later tonight about Melvin's future.
Dodger slugger Manny Ramirez has been suspended for 50 games for testing positive for performance-enhancing drugs. That's too bad. I'd like to think that players have gotten the point and would just stop using already.
This is not good timing. The Dodgers broke the MLB record for home game season-opening winning streak with their win over the Nationals last night. Manny was a key actor in that win and many others for the team that has the best record in baseball.
This will hurt the Dodgers. The question is whether the Diamondbacks will be able to capitalize, and whether it will be with or without Al (oops) Bob Melvin at the helm.