family
The Obama Administration grossly miscalculated the reaction that American Catholics would have to the new Health and Human Services (HHS) mandate requiring Catholic institutions such as schools, hospitals, and charities, to purchase health insurance that covers contraception, sterilization, and abortion-inducing drugs–all of which are immoral according to Catholic teaching.
Stories in the Huffington Post and others covering the controversy are quick to point out that 98% percent of sexually active Catholic women have used birth control; whether these women are all actively practicing Catholics is not discussed.  Regardless, the point is moot.  The Catholic Church is a 2,000 year-old global institution; its orthodoxy is not governed by polling in the United States.  Further, the First Amendment says, "Congress shall make no law respecting an establishment of religion or prohibiting the free exercise thereof."  There is no stipulation saying, "unless Congress determines that some followers of that religion do not strictly adhere to all of that religion's tenets."  Many Jews do not keep kosher, so can Congress pass a law prohibiting those who do from continuing?
Catholics may disagree with the rules of the Church, as children at times disagree with the rules of their parents, but it does not mean that Catholics do not respect or love the Church just as a rebellious child still respects and loves his parents.  The Obama Administration gambled that Catholics would choose Obama over the Church.  The sheer arrogance is mind-blowing. As Peggy Noonan wrote in her WSJ column, "there was nothing for the president to gain, except, perhaps, the pleasure of making a great church bow to him."
Even some Catholic liberals like the Washington Post's E.J. Dionne have spoken out against the mandate.  When E.J. Dionne and I are in agreement, there is something incredibly wrong in the world.  The pressure on the Administration is growing and will be unrelenting.  The Catholic vote matters to Obama and eventually, I believe, the Administration will capitulate.  If it isn't soon, the damage to his image with Catholics could be irreparable.
This past weekend, Catholic bishops around the country wrote letters, to be read at Sunday Masses, condemning the attack on religious freedom.  Among these bishops was Bishop Olmsted of Phoenix and Archbishop Timothy Broglio, the Archbishop of Military Services who wrote that the HHS rule was, "a blow to the freedom that you have fought to defend and for which you have seen your buddies fall in battle."
As National Review reports, the Army's Office of the Chief of Chaplains actually tried to prevent Catholic chaplains from reading Archbishop Broglio's letter from the pulpit.  The Executive Branch tramples on freedom of religion and then tries to silence those who object–these are not the actions of a man who respects our free society.  Obama views the First Amendment, heck the entire Constitution, as optional.
He must be stopped.
It is an unfailing truth that kids will focus in on one toy from Christmas and that it will generally be one of the cheapest of the bunch.  It makes me wonder why I don't just do the dollar store for everything.
***
I did not tell my kids what I wanted for Christmas this year, so they were left to truly think on their own.  I got a variety of Dodger paraphernalia, four ties and two shirts.  They know me well: fun and practical.
***
I understand the appeal of a white Christmas, but you just can't beat sunny and 70 degrees.
***
Speaking of sunny December weather, President Obama played his 90th round of golf as President this week.  Not only is that nearly double what Bush played in eight years, it is more rounds than I've played in my lifetime. (Which is more a commentary on me than Obama.)
***
Apparently the NBA season is now underway.
***
I always enjoy the year-end specials about the top stories of the year, the year in pictures, best sports moments of the year and the like.  There were some interesting things that happened, but I'm guessing most people will be glad to see 2011 end.
***
I really feel for people who have a birthday on or near Christmas.  Speaking of which, Happy Birthday Nicole!
***
What does it say about me that I think of PF Changs as comfort food?
I suppose it is fitting that I would watch the final episode of Friday Night Lights on a Friday, and the Friday after Thanksgiving no less.
It's no secret that I can get emotional – about my children, my beliefs and about my country.  But I even surprised myself in getting emotional about football, and Texas football of all things.  It is bigger than football… it's real life, relationships, hardship, love, adversity and, ultimately, finding happiness.
Yes, watching Friday Night Lights pulled long lost memories from deep in the recesses of my mind, which made it surprisingly enriching.  I could relate, to some degree.  I come from a small town in the White Mountains of Arizona where there wasn't much more than high school sports.
While I was a mediocre football player, I was decent at baseball and in my senior year, we took state.  It wasn't nearly as dramatic as a TV show characterizes it, but it was pretty cool.
At the end of the day, the message I took away from Friday Night Lights was that no matter how great and important what you are doing at the moment seems, it's the future that matters – because it should always look brighter and be better.
The lights may go out on a Friday night, but the sun comes up tomorrow.
"What's your favorite season?"  For whatever reason, I have never really liked that question.  I think it's because I always felt conflicted among Spring, Summer and Fall (Winter would never make my list).
I felt like I should say Spring, because it was the long anticipated break from Winter (I lived in fairly cold and snowy climes from age 5 to 21).  I felt like I should say Summer because of baseball and fishing.
In my heart, I really knew Fall was my favorite.  That acceptance and realization that I could actually say it came the Fall after I turned 19.  I was in Indiana and the leaves were had turned and were starting to really cover the ground.  I happened to hear the song "California Dreamin'" and it seemed totally appropriate.
So, I'm really enjoying my favorite season.
All-day kindergarten is one of those issues that I just won't ignore. In some ways it's become a personal crusade of mine, because I had such a personal experience with it when my oldest son was in kindergarten and the experience I had in trying to actually exercise a choice as a parent to NOT have him in an all-day program.
I oppose "free" all-day kindergarten, because there isn't any actual educational benefit to kids that last beyond the 3rd grade. In fact, in my son's case, his reading skills actually regressed as a result of not being at home with my wife working on reading one-on-one. The link above tells the more complete story.
So I was annoyed when I read this story about how school districts are grappling with what to cut in order to save all-day K. It really isn't much more than a few hours of free day-care for parents. I know first-hand. I tried to get parents to sign a petition asking for a half-day option a few years ago and I couldn't get one parent to sign it. The most common reason? "Oh this is great, I'll have more free time."
The bottom line is that I don't want my tax dollars going to subsidize the free time of other parents. And don't try to argue that is critical for working parents. Sure it helps them, but my wife and I figured it out when our oldest daughter had half day, so it's not like it's a new concept or something.
So this is a bit of rant, but like I said, it's personal.
This is my 3 year-old son.  This picture signifies a number of things: the swimming season has started; my son is a little worker; and I must be getting older, because I was so happy he wanted to try to clean the pool himself.
Let summer begin!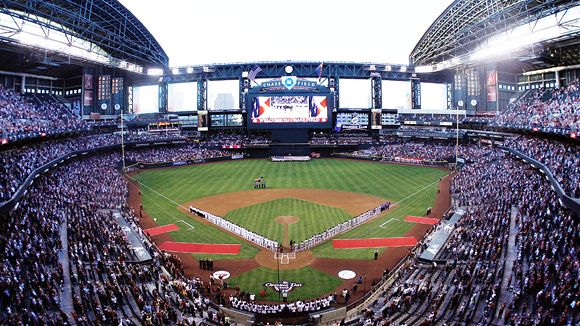 The only Diamondbacks game I got to last year was the second to the last home game, so I was determined to start the season right by taking my 11 year-old son to Arizona's home opener.
It didn't disappoint. Between a towering home run by Mark Reynolds, a two-run inside-the-park round-tripper by Stephen Drew and a masterful performance by Dan Haran on the mound, it was a great day – not to mention the fighter jet flyover to start the game.
There is nothing quite like sharing opening day with your son, particularly when he has a big smile on his ice-creamed smeared face after enjoying a Cold Stone Oreo Overload washing down a 2 lb bag of peanuts.
Yes, it's only the first game, but the D-Backs are showing some real promise this year.
Here's to getting to a few more games this year.
OK, so I initially decided that I wasn't going to run. Then the world jumped in, and it got me thinking about the votes it will take to win the primary, and I realized I probably have more people in my blackberry contacts from CD3 than is necessary to win.
My wife started rethinking it as well, and after a fair amount of discussion, and a consultation with the kids, we decided there's no time like the present!
So, I'm jumping in – I know the water is warm, probably too warm with all the bodies in the pool – because I want to make a splash.
April Fools!
Major League Baseball spring training is underway and my sons little league opening day is this week.
For a baseball nut like me, it's Christmas in the spring.
The gift of the Cactus League, with the addition of the Los Angeles Dodgers last year, make spring training that much better. With the Diamondbacks moving from Tucson to the Valley soon for spring training, makes the Cactus League that must stronger.
Play ball!
Ninety-one years ago today, Woodrow Wilson signed legislation designating the Grand Canyon as a national park.
I have been to the Grand Canyon many times, and each time the experience is a little different. Yes, I've had the Clark Griswold experience of taking five seconds to look at the view and then tell the kids, "Wow, isn't that cool? Now let's go get lunch."
But I've also had the experiences of the solitude of taking in the awesome beauty and the totality of the size and grandeur of one of the true wonders of the world.
Happy Birthday Grand Canyon.
Just for kicks, here is the clip from the 1983 film Vacation.