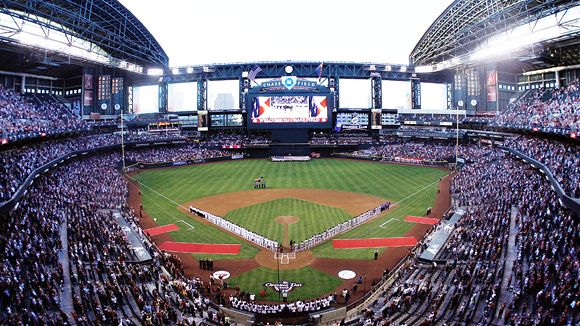 The only Diamondbacks game I got to last year was the second to the last home game, so I was determined to start the season right by taking my 11 year-old son to Arizona's home opener.
It didn't disappoint. Between a towering home run by Mark Reynolds, a two-run inside-the-park round-tripper by Stephen Drew and a masterful performance by Dan Haran on the mound, it was a great day – not to mention the fighter jet flyover to start the game.
There is nothing quite like sharing opening day with your son, particularly when he has a big smile on his ice-creamed smeared face after enjoying a Cold Stone Oreo Overload washing down a 2 lb bag of peanuts.
Yes, it's only the first game, but the D-Backs are showing some real promise this year.
Here's to getting to a few more games this year.