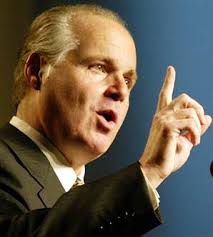 CPAC ended with a bang with a closing speech by Rush Limbaugh.  It was a tour-de-force that will go down in the annuls of CPAC speeches as one of the best ever.  He had the audience of thousands (and thousands more packed into three separate ballrooms watching on big screens) on its feet dozens of times during his speech.
After the speech I grabbed a bite to eat at Stoney's in D.C.  At a table near me, I overheard a lady sitting with three of her friends talk about how she was flipping through channels and came across Rush Limbaugh on CSPAN.  She said that she had never listened to him before and that she was surprised by "how good he was and how funny he was."  She went on to provide an explanation about how Rush explained what he meant when he said that he "hoped Obama failed."  She argued, with skeptical dinner mates, that Rush's point was that Obama's policies are very bad for the country and that his desire that Obama fail, was justifiable because he disagreed with the policies.
I was riveted by the conversation, which was difficult to hear at times (not only was it kind of loud, those who know me well, know that I am nearly completely deaf in my left ear, and they were sitting to my left).  As friends made comments, she came back with responses.
I don't know whether she convinced her friends that Rush was right, but she was clearly a newly minted ditto-head who was vigorously defending him only hours after hearing him for the first time.  Now that is the power of persuasion, especially when it is articulated in a clear, concise and humorous way. Well done Rush.
CPAC 2009 will be remembered as the beginning of the resurgence of the conservative movement.  There was a multitude of great speeches ranging from Members of Congress, Governors, activists and personalities.  Gov. Mark Sanford and former Governor Mitt Romney proved that they are viable for a presidential run in 2012.  Rush Limbaugh proved that he will continue to be the conscience of the conservative movement. Young conservatives in attendance proved that there is plenty of energy and vigor to continue the fight.  
And CPAC proved that it remains the preeminent conservative conference for the movement. Make plans now to attend CPAC 2010 from February 18-20, 2010.  You'll be glad you did.