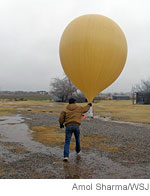 Newly installed Transportation Secretary, former Republican Congressman Ray LaHood, did what at first blush may look like a misstep getting out in front of the Obama administration on the possibility of taxing drivers based on how many miles they drive.
"We should look at the vehicular miles program where people are actually clocked on the number of miles that they traveled," the former Illinois Republican lawmaker said Thursday.
This would be accomplished by installing GPS devices in every car sold in the U.S. and then the information would be downloaded to determine the amount of the tax.
White House Press Secretary, Robert Gibbs, was quick to claim that Obama is not considering such a policy:
"It is not and will not be the policy of the Obama administration," Gibbs told reporters, when asked for the president's thoughts about the policy and LaHood's remarks.
Despite Gibbs comments, this is clearly a trial balloon by the Obama administration.  They will let it simmer and then the environmental community, states and other transportation reform advocates will start pushing it, and once sufficient cover is established, the administration will begin to find ways to adopt it.
This is a textbook example of how to launch a trial balloon, and one Gov. Brewer's staff should study.  LaHood is not the White House, but as Transportation Secretary he has enough credibility to make news and get attention.  He floats this idea out there, let's the White House denounce it, and it sends the message to advocacy groups that they need to gin up the support to provide the impetus for the Administration to act. 
Brilliant.